Whether you've lost your retainer, your dog has eaten it (it happens), or you're looking for a fresh one, you might be wondering, "
how much will a new retainer cost?".
Clear aligners are made of a transparent and discrete clear plastic that is moulded to your teeth. The purpose of aligners is to move teeth into their preferred position, whilst the goal of a retainer is the final and ongoing step in the teeth straightening process. Retainers help to keep teeth in the desired position for years to come. Unfortunately, there is no straightforward way to calculate the retainer cost, as different factors affect the price – most notably, where you're purchasing your new retainer from. This article aims to provide an in-depth overview of retainer cost based on the different types of retainers available, when, and why the retainer requires a replacement, and what to do if you break or lose a retainer.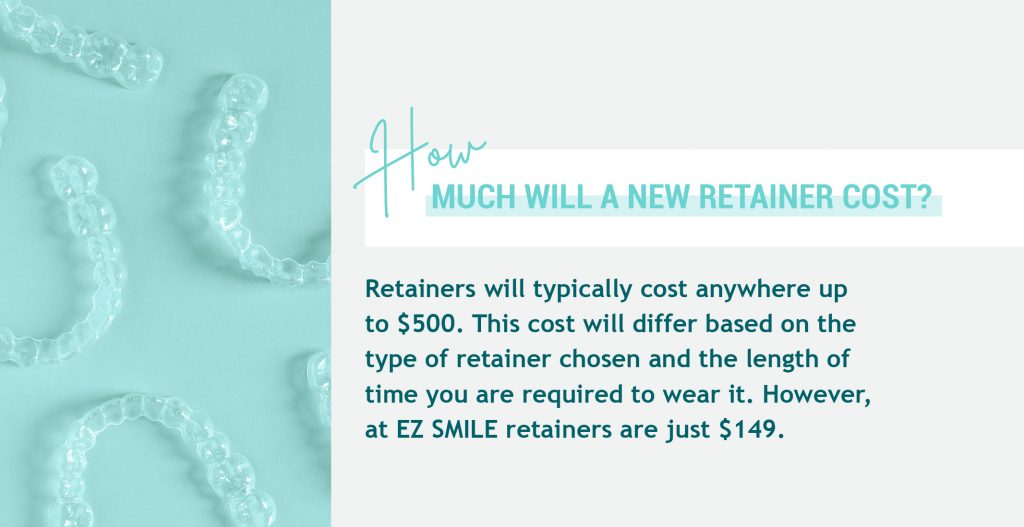 How Much Will a New Retainer Cost?
So, how much do retainers' cost? Retainers will typically cost anywhere from $100 to $500. The cost of the retainer will differ based on the type of retainer chosen and the length of time you are required to wear it. Retainers are required after all orthodontic treatment – from teeth aligners to metal braces, you'll need to wear a retainer following your treatment. The different retainers include removable Hawley retainers, Essix retainers, clear plastic retainers, and bonded retainers.
Removable Hawley Retainer
The Hawley retainer is a classic retainer used post-braces made from plastic and metal wires. This type of retainer lasts for about 5-10 years and costs between $150 and $300. Depending on your requirements, the cost of this type of retainer can reach $600 from different dental practices.
Removable Essix Retainer
An Essix, clear retainer is formed of acrylic and costs from $100 to $250 for one or $200 to $500 for a set. The Essix retainer is crafted with cheaper materials and is more affordable than other retainer options. However, they are more malleable and therefore may need to be replaced more frequently than a more solid retainer model.
Bonded Retainers
Bonded retainers are also known as permanent wire retainers. Bonded wire retainers are most often applied to the bottom of the teeth following braces and are not usually visible when an individual  is smiling, talking, and interacting. Often, only the bottom bonded retainer is required, with a combined removable retainer for the top arch of the mouth. Bonded retainers range in price from $250 to $500 for one arch and $500 to $1,000 for both arches.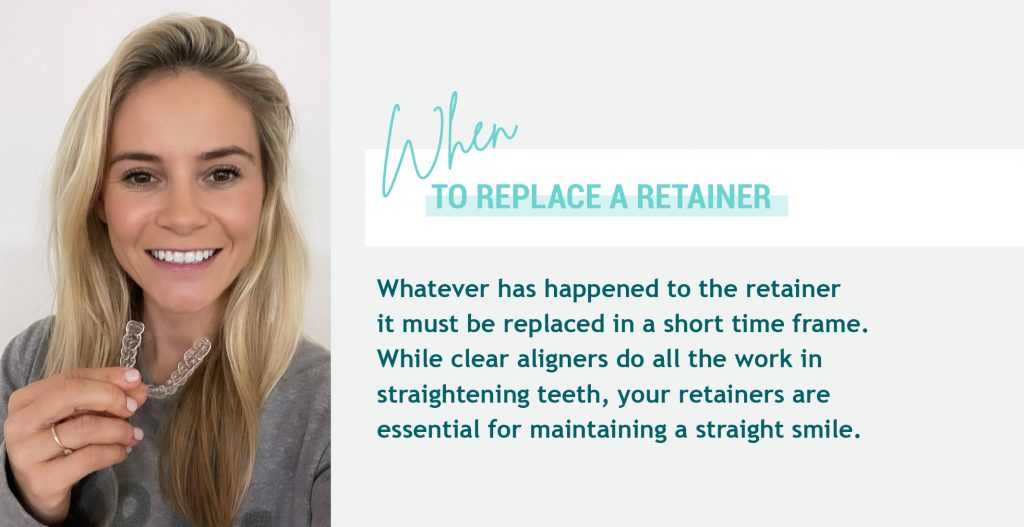 When to Replace a Retainer 
Whatever has happened to the retainer, it must be replaced within a short timeframe. While clear aligners do all of the hard work in straightening teeth, your retainers are essential for maintaining a straight smile. As such, not wearing your retainer for prolonged periods of time can see your teeth potentially shifting or relapsing back to their original crooked position. Now that we have provided an overview of how much retainers cost, we'll outline the signs to be aware of that suggest you need to replace your retainer.
The Retainer Is Lost, Stolen or Missing 
Well, this is a no-brainer. If the retainer is lost, stolen, or missing, it's crucial to find a replacement retainer as soon as possible. The longer you avoid obtaining a replacement retainer, the higher the risk of teeth shifting back into their original position. In our opinion, when asking,
"how much will a new retainer cost?",
the cost of maintaining your incredible new smile for years to come is priceless.
The Retainer Is Damaged 
You'd be surprised how many clients have come to us with retainers that their pets have chewed up. Beyond mishaps with pets, if the retainer shows visible signs of wear and tear, such as cracking, you likely need to replace the retainer.
Plaque Build-up and Discolouration 
One of the most obvious tell-tale signs of plaque build-up is discolouration within the retainer. Discolouration of the retainer suggests the user is not cleaning their retainer thoroughly enough. Therefore, plaque build-up creates a yellow tinge across the otherwise clear retainer. Not only is getting a new retainer a good idea for the overall appearance of your smile, but it will help to prevent other teeth health issues.
The Retainer Doesn't Fit 
When retainers aren't worn as frequently or not as long as specified, they will begin to feel uncomfortable and will no longer fit. When the retainers are not worn often enough, the teeth can revert to their old position, making inserting the retainer again quite unpleasant, this can also cause the retainer to stretch or break. Be sure that you wear your retainers as advised.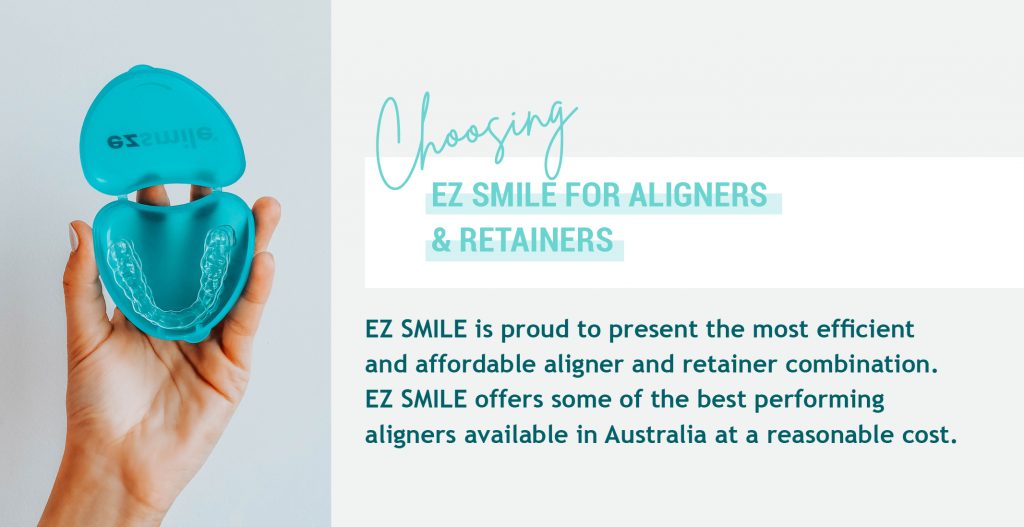 Choosing EZ SMILE for Aligners & Retainers
Now that you're an expert in answering,
"how much will a new retainer cost?",
we'll show you why EZ SMILE's solution is the best option for you. EZ SMILE is proud to present the most efficient and affordable aligner and retainer combination. EZ SMILE offers some of the best performing aligners available in Australia at a reasonable cost. Let's delve some of the additional benefits of EZ SMILE:
At-Home Model 
EZ SMILE runs an 'at-home' teeth straightening model, meaning no orthodontist visits or check-ups are required – another huge money saver! We deliver all treatment packages, including the aligners, directly to your door.
Four Easy Ways to Pay 
Whether you're looking for a payment plan or are ready to buy upfront, EZ SMILE has the right solution for you. The four ways to pay include your choice of:
A one-time upfront payment of $2,499
Humm – $104.13 per month for 24 months + Humm Fees $60 set up and $8 per month = $2751.12 total.
EZ Instalments – $45 per w for 52 weeks + $499 deposit = $2839 total.
Zip Money – $208.26 per month for 12 months + Zip Fees $25 set-up + $9.95 per month = $2643.52 total.
Aligners Included in the Package 
Within the treatment packages listed above, the below items are included:
All of the aligners needed to straighten your teeth.
First set of retainers to keep teeth straight after treatment
Personalised teeth straightening plan
Shipping and delivery
Teeth whitening
Free refinement aligners if needed to guarantee the result
Replacing Your EZ SMILE Retainer
After your EZ SMILE treatment, it is important that retainers are worn full time for the first three or 4 weeks following aligners. The longer you can manage to wear them full time the better the end result will be. Then, you can gradually move to only wearing them nightly for the next 12-24 months, then once teeth are settle and ligament and bone has regrown you can generally wear them only a few nights per week whilst sleeping. It is recommended that you replace your retainers very 6-12 months. At EZ SMILE, your first set of retainers is included with your treatment – any additional retainers can easily be replaced and purchased through your customer dashboard! EZ SMILE is the easiest method of teeth straightening in Australia. We've eliminated the additional costs that result from in-house check-ups and can ship a replacement retainer directly to you if need be. We're based in Sydney and have a friendly customer service team waiting for your call to answer any questions you might have regarding retainer replacement. Ready to get going? Start a
free 30-second assessment
today to determine if EZ SMILE is the right solution for you!