The most common question we get asked is, "how much do invisible braces cost in Australia?" Put simply, there is no simple answer. Invisible braces cost will vary based on several different factors, including the severity of misalignment or spacing, bite issues, the length of treatment, any previous dental work, and any extra dental work that has to be done. This article will provide a detailed overview of the factors that influence invisible aligners price, the results of invisible braces and how invisible braces cost compares to the price of other teeth-straightening methods.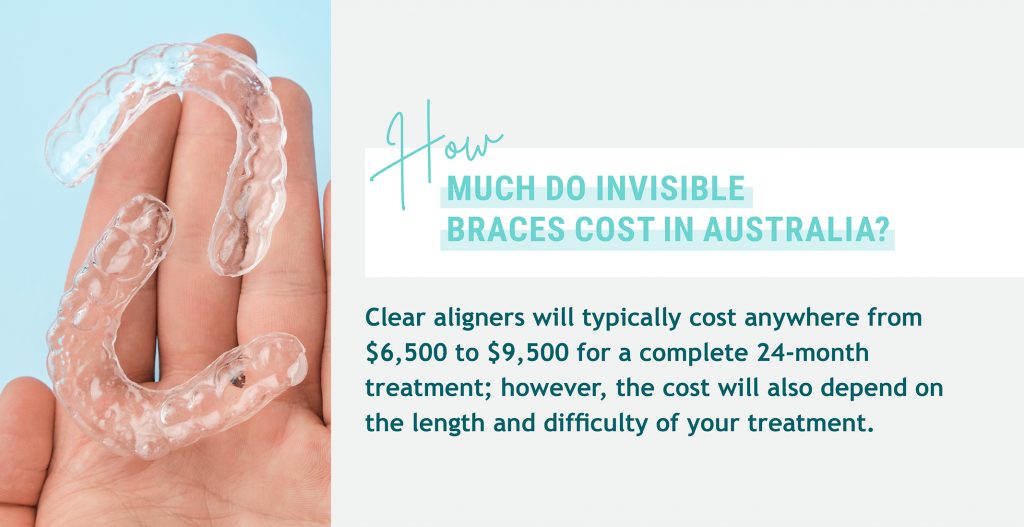 How Much Do Invisible Braces Cost in Australia?
Invisible braces, also known as clear aligners, are rapidly gaining popularity in Australia, especially with the younger demographic. Clear aligners are made of a transparent, plastic material that is moulded to the shape of your teeth and applies pressure to the teeth to move them into the preferred position. Clear aligners have grown in popularity because of their transparency and ease of use. Not only are they much more challenging to notice than traditional braces when on, but they can also occasionally be removed. Moreover, clear aligners are much more comfortable to wear than traditional braces as the risk of cuts in-mouth is severely reduced. Clear aligners will typically cost anywhere from $6,500 to $9,500 for a complete 24-month treatment; however, the cost will depend entirely on the length and difficulty of your treatment. Less severe cases generally have a shorter treatment time and thus a lower price. Here at EZ Smile, our clear aligner treatments are 70% cheaper than traditional braces. Let's go into detail regarding the factors that influence invisible braces cost Australia wide.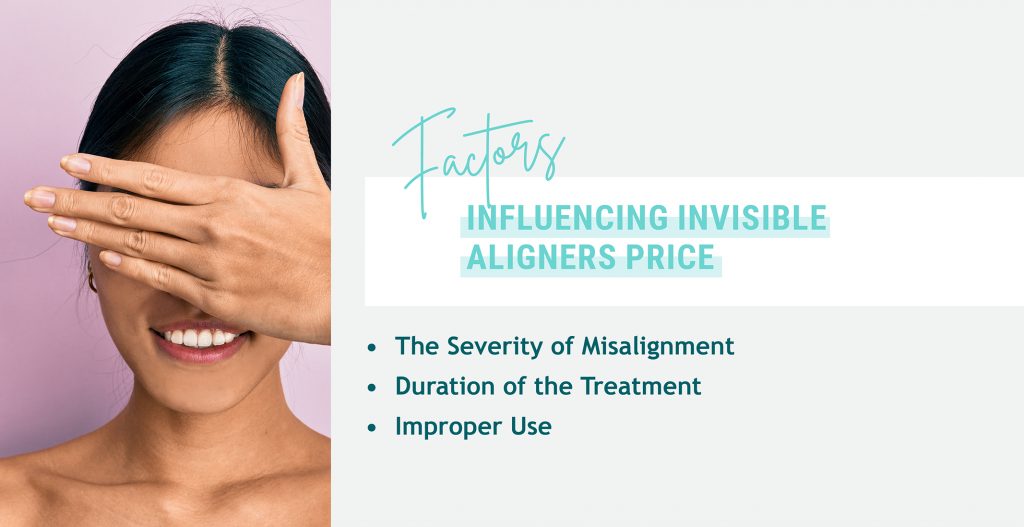 Factors Influencing Invisible Aligners Price
So, you're wondering, "how much is it to get invisible braces?" and you've realised it's not as straightforward as it may seem! Below are some factors to consider when analysing invisible braces cost Australia.
1. The Severity of Misalignment
As stated above, the more complex and lengthier the treatment, the more it will cost. People invest in braces for several reasons, but most commonly because their teeth are crowded, stick out, crooked, or too far apart. By investing in invisible braces, you can avoid cavities, gum disease and enamel erosion, among other problems. It may take more time for teeth to push into the desired position if they're extremely far apart. This can extend the length of the treatment and subsequently, invisible braces cost. Furthermore, extra treatment may need to be conducted throughout your time wearing invisible braces. For example, removing teeth to make more room in the mouth is not uncommon.
2. Duration of the Treatment
The severity of misalignment and the duration of your treatment are both relevant to each other when calculating invisible braces cost. It is important to note that if you are also fixing an open bite or underbite, the overall process will take longer, and thus invisible braces cost will increase. In severe cases, even jaw surgery may be required.
3. Improper Use
The length of your treatment can be extended if you do not follow your orthodontist's advice. As clear aligners can be removed occasionally, the treatment process can be extended if removed too often. Make sure that you wear your clear aligners most of the time if you do not wish to increase invisible aligners price over time.
Invisible Braces Cost vs. Other Teeth Straightening Treatments Cost
Hopefully, you're not feeling too overwhelmed when considering "how much do invisible braces cost in Australia?". To put invisible braces cost into perspective, we'll run you through an estimated cost of other teeth-straightening methods so you can compare how they stack up against each other.
1. Metal Braces
Metal braces are the type of braces that most people are familiar with. They consist of metal brackets placed on the outside of your teeth, using wires to help teeth move quickly. These metal braces are quite prominent and noticeable when exposed. Traditional metal braces cost between $6,000 to $9,000, depending on the time needed. In addition, retainers have to be purchased after treatment and regular orthodontist visits are required every 1-2 months. Compared to the invisible braces cost – why wouldn't you go for clear aligners? They're the same price and much less noticeable to
2. Ceramic Braces
Ceramic braces are similar to metal braces in size and shape, but they have clear brackets that blend into the teeth. As a result, they are less noticeable to see. The cost of ceramic braces is normally around $6,500 to $9,500. Orthodontist check-ups are also required at the same rate as metal braces.
3. Lingual Braces
Lingual braces are very similar to both metal and ceramic braces, except they are placed on the inside face of the teeth. They are more challenging to clean due to their location and can often be much more uncomfortable than traditional braces. In addition, lingual braces are the most expensive treatment. They cost more than metal braces because they have to be custom made and fitted in a laboratory. Due to their location, lingual braces require longer appointments which increases the cost. Lingual braces cost anywhere from $10,000 to $15,000 for a complete treatment.
4. Invisible Braces or Clear Aligners
As stated above, normally invisible braces cost around $6,500 to $9,500 for a complete 24-month treatment. Each provider is free to set their own fees, so price variation between clear aligners is bound to occur. Therefore, make sure that you receive a quote in between this range if relevant. However, EZ Smile offers clear aligners treatment for a much lower cost, ranging from $2,499! Save up to 70% compared to other invisible braces treatment with EZ Smile clear aligners. EZ Smile keeps the cost of clear aligners low, without sacrificing quality or ease of use.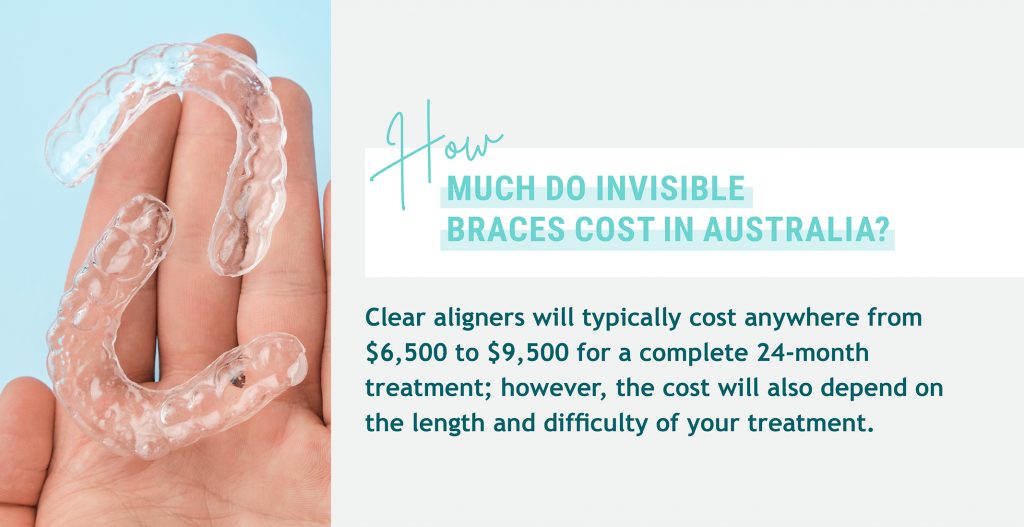 How Much Does EZ Smile Cost?
So, now that you have a rough idea regarding "how much is it to get invisible braces?", and the cost of invisible braces compared to other treatments, let's take a deeper look at EZ Smile's 'Clear Aligner' solution – the most cost-effective and efficient invisible braces product on the market. Compared to all the previously discussed methods of teeth straightening, EZ Smile is by far and away the cheapest product on the market – without sacrificing excellence or convenience.
EZ Smile offers four easy ways to pay:
One-time payment of $2,499. Total treatment.
Zip Money – $208.26 p/mth for 12 mths + Zip Fees $25 set-up + $9.95 p/mth = $2643.52 total.
Humm – $104.13/mth for 24 mths +Humm Fees $60 set up and $8 p/mth = $2751.12 total.
EZ Instalments – $45 p/w for 52 weeks + $499 deposit = $2,839 total.
Within this treatment package, these costs are included in the above total sums:
Your first set of aligners
Professional teeth whitening
First set of retainers to keep teeth straight after treatment.
Shipping and delivery
Personalised teeth straightening plan.
Free refinement if needed to guarantee the end result
To assess your initial suitability with EZ Smile's clear aligners, book in for a free 3D teeth scan or purchase an at-home impression kit today! EZ Smile runs an 'at-home model', meaning we deliver our package, including the aligners, directly to your door. This means no orthodontist visits or check-ups are required – another huge money saver! Compared to other invisible braces cost Australia wide, EZ Smile is a bargain! Save up to 70% compared to traditional braces. Get straight teeth with EZ Smile clear aligners.
Why You Should Choose EZ Smile Over Competitors
So, there you have it! As you can see, the cost of traditional braces and clear aligners developed by other brands is remarkably higher than the invisible braces cost of EZ Smile. EZ Smile is the cheapest way to straighten teeth in Australia and has eliminated the extra costs attached to in-house check-ups. EZ Smile works from the comfort of your own home and is shipped directly to you. The total invisible braces cost with EZ Smile is $2,499, roughly 70% less than traditional methods. As a result, EZ Smile is an excellent treatment option for anyone seeking discreet teeth straightening treatment with a lower price tag. EZ Smile is an Australian company based in Sydney with a highly rated locally-based customer service team to assist you at any point throughout your treatment. So, start your free 30-second assessment today to find out if EZ Smile Clear Aligners are the solution for you!