Clear aligners vs. braces – which is right for you? Both aim to correct any misalignment of your teeth; however, the factors influencing which option may be right for you are vast. Your age, positioning of your teeth, budget, location and overall result you are trying to achieve may all influence which option you choose. 
Deciding to undergo orthodontic treatment can be as simple as wanting a straighter smile, or can also be used to improve the functioning of teeth and the jaw muscles. Many people will undergo orthodontic treatment to correct any misalignment, extra spacing or an overbite. However, straightening your teeth can also improve dental hygiene by allowing you to brush properly and can be used to relieve pressure on poorly positioned teeth. In this article, we'll outline the key differences between braces and clear aligners as well as the costs and treatment time associated with each option. 
What Is the Difference Between Braces & Aligners?
We've mentioned that both braces and aligners serve to correct any misalignment in your teeth – but what makes them different? Braces are metal brackets that attach to each tooth and are used to straighten crooked teeth or a misaligned bite. Traditionally, braces are used to treat more significant misalignment or children orthodontics. Recent technological advances, however, have created braces that are either coloured to match your teeth or clear, which can help to minimise the visual impact of braces – an element that appeals to many patients. 
Aligners are removable clear plastic trays that do not involve any wires, elastics or brackets. Multiple sets of aligners are required and will generally need to be changed every two weeks or so. Throughout this process, the teeth gradually move into the desired position through gentle pressure. When it comes to clear aligners vs. metal braces, below we'll breakdown some of the factors and help you decide which option is best for you.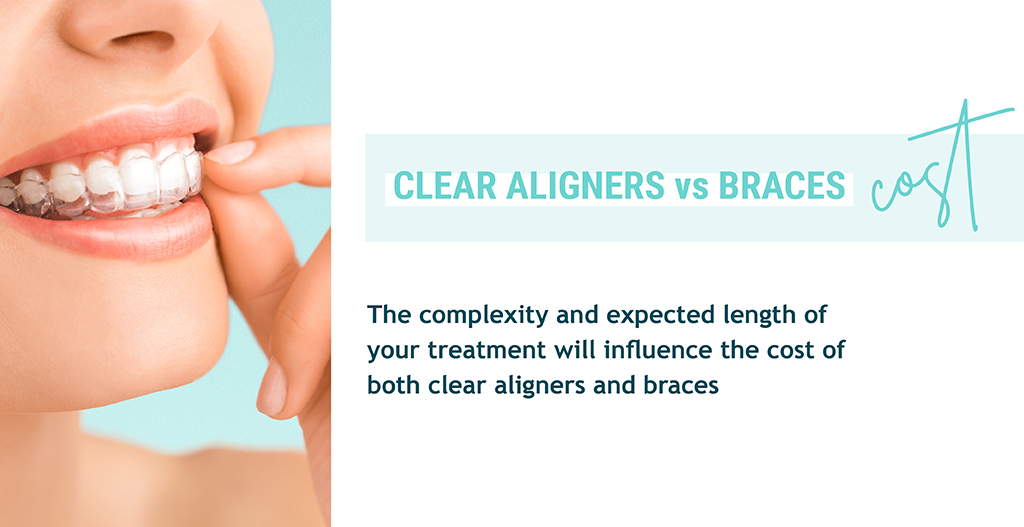 Clear Aligners vs Braces Cost
When comparing clear aligners vs braces cost, it is vital to take into consideration your individual circumstances. A broad range of factors can influence the cost of your treatment with either braces or clear aligners; however, the severity of the misalignment or bite and length of the treatment required are largely contributing factors. 
Unfortunately, both braces and clear aligners aren't suitable for everyone, and you may find yourself limited to one option in particular. A lot of people, however, have the options and flexibility to choose either braces or clear aligners, depending on whichever they prefer. Below we breakdown the cost of each option. 
Clear Aligners Cost
When comparing clear aligners vs braces costs, it is essential to take into consideration your age, any pre-existing conditions, the severity of teeth misalignment and the duration that your treatment is expected to take. Clear aligners are one of the most cost-effective teeth straightening treatment options currently available on the Australian market. 
Although the cost will depend on your individual circumstances, clear aligners generally cost between $2,000 and $9,000* in Australia. Shorter, or less complicated treatments involving only some of the teeth may cost significantly less based on the number of aligner sets that you require. Longer treatments or more complicated misalignment issues may exceed this range depending on the length of the treatment and the number of aligners that you require. 
How well you care for your clear aligners will also affect the cost of your treatment whereby any lost, damaged or broken aligners will need to be replaced – often at an extra cost. For this reason, it is crucial to follow the care instructions provided by your treatment provider. Some clear aligner companies offer an at-home teeth straightening model, which removes the need for face-to-face dental visits and drastically decreases the costs of treatment.
Conventional Braces Cost
Although clear aligners are great for a number of patients, metal braces are traditionally more effective for treatment within children and to treat more severe misalignment issues. Along with the costs, the issues you are trying to correct and the timeframe that you are trying to achieve results within will affect the orthodontic treatment option that is best for you. 
Although the cost of conventional braces will depend on your individual circumstances, the average cost of treatment of traditional metal braces in Australia is between $5,000 to $8,500**for a standard 18-month treatment2. Conventional braces are generally more expensive than other orthodontic alternatives based on the requirement of regular face-to-face visits and check-ups to ensure that the treatment remains on track and adjust the braces when required. 
When comparing clear aligners vs braces costs, it's also important to research what is included in your orthodontists' costs. Usually, the cost associated with traditional metal braces will include your initial consultation, any follow-up or adjustment appointments, any x-rays and further dental work that is required, such as a tooth extraction which may be necessary in more extreme cases. Each of these factors is usually combined to create the cost to cover the entire treatment. For this reason, the costs associated with traditional braces will differ drastically from person to person.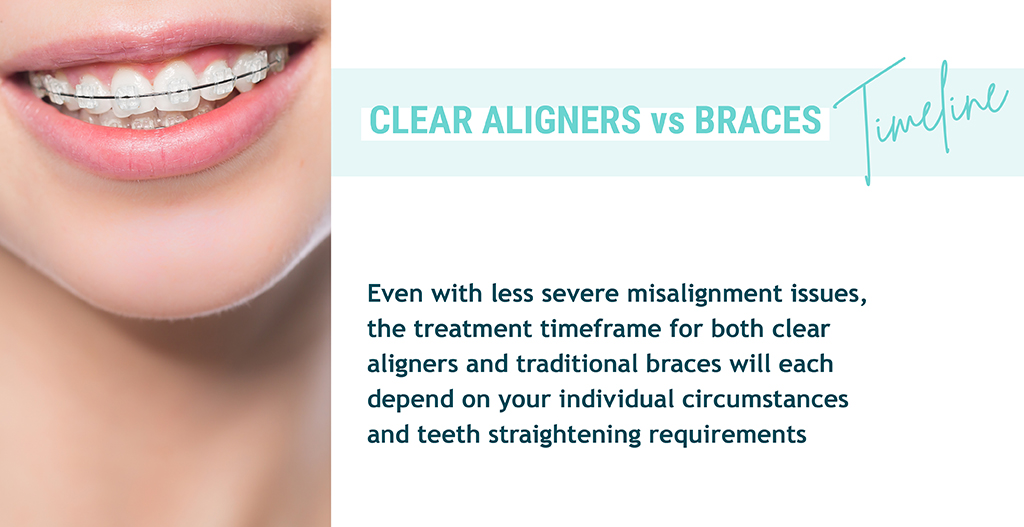 Clear Aligners vs Braces Timeframe
Let's talk about the clear aligners vs braces timeframe. Especially when dealing with less severe misalignment issues, patients have more flexibility when choosing an orthodontic treatment route. Many patients opt to select their treatment method based on the timeframe that their end result can potentially be achieved within. Even with less severe misalignment issues, the treatment timeframe for both clear aligners and traditional braces will each depend on your individual circumstances and teeth straightening requirements. 
Below we'll explore the aggravating and mitigating factors of each to help you decide which option is best for you and will best achieve your desired results. 
How Long Do Clear Aligners Take To Work?
Now that we've discussed what is involved in both clear aligners and braces orthodontic treatment, let's explore how long each of these methods take to achieve results. 
With aligners, the length of your treatment will depend on the complexity. If your teeth misalignment isn't particularly complicated or severe, clear aligner treatments can take as little as six months to complete. Unfortunately, those with more complex issues may require a treatment duration of up to 2 years. The great thing about clear aligners is that you'll start to notice the difference within just a few weeks. The results will seem minimal at first, but by the 4 to 6 weeks mark, you'll be able to detect noticeable changes. 
In order to achieve your desired results, you'll need to wear your clear aligners for a minimum of 22 hours per day and only remove them when eating and drinking. Taking great care of your aligners can also help to keep your treatment time on the lower end – keeping them protected in the provided case and giving them a quick clean whenever you take them out will keep your trays working properly and will minimise the risk of requiring a replacement set. 
How Long Do Conventional Braces Take to Work?
So, how long do conventional braces take to work? Unfortunately, this is similar to asking 'how long is a piece of string?' and having braces fitted and wearing them can be a long and slow process. 
You may need to wear braces for 12 to 24 months or longer, followed by a retainer for 12 to 24 months or longer with some even being permanent. During this time, you will also require regular dental visits and check-ups to ensure that your treatment plan remains on track. Another factor that may affect your orthodontic treatment time is how quickly your teeth actually move. The average movement is 1mm per month. However, everyone's teeth are different, and you may find that your teeth move slower or even faster than this. 
Along with the speed at which your teeth shift, how much movement you require and whether or not you have any underlying bite or jaw issues will also affect the time in which your treatment can be achieved. Some people opt for quick braces like 'six front teeth braces' which correct misalignment for cosmetic purposes rather than providing therapeutic treatment. For these reasons, it's important to consult with your orthodontist to gain a more precise idea of how long your treatment will take.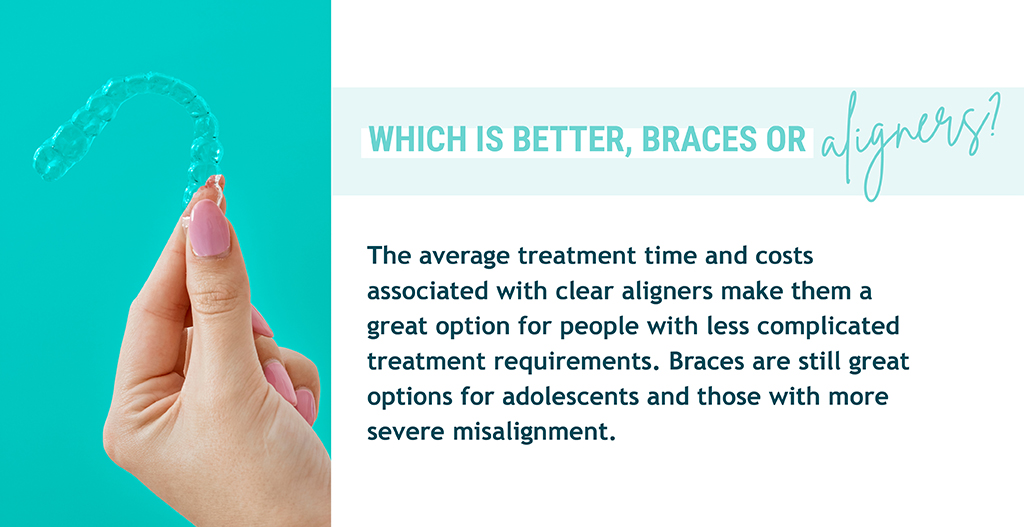 Which is Better, Braces or Aligners?
When deciding on clear aligners vs metal braces and which option is right for you, it's important to take into consideration the severity of your misalignment issues, the timeframe in which you are trying to achieve your results, the cost that you are willing to pay, as well as your age and lifestyle. 
Traditional metal braces are great options for children and those with more severe orthodontic requirements; however, clear aligners are far better for those who require less movement in their teeth. The average treatment time and costs associated with clear aligners make them a great option for patients with less complicated treatment requirements. 
This is where the previously mentioned at-home teeth straightening models come in. These companies drastically decrease the costs associated with clear aligner treatments through an at-home model which cuts out the need for regular dentist visits with your clear aligners being delivered directly to you at home.
EZ SMILE is a 100% Australian owned teeth-straightening company and offers at-home teeth-straightening for as little as $2,499 with payment plans available. EZ SMILE's average treatment length is 6-8 months and have an Australian customer service team who are able to answer any questions that you may have along the way. If you'd like to learn more about whether or not EZ SMILE is right for you, take our free 30-second assessment today. 
** Source