Transform your smile with professional-grade at-home teeth whitening pens! Quick, easy and safe, you can expect your teeth to be two to eight shades brighter after just one use! Get ready to show off your dazzling smile!
EZ SMILE teeth whitening pens provide a fast, easy and effective method of instantly brightening and whitening your teeth. Conveniently packaged in a brush applicator and formulated with 18% Carbamide Peroxide, a bleaching agent, for maximum results, the gel penetrates deep into the enamel and dentin to instantly remove surface stains – restoring your teeth to their natural shine effortlessly.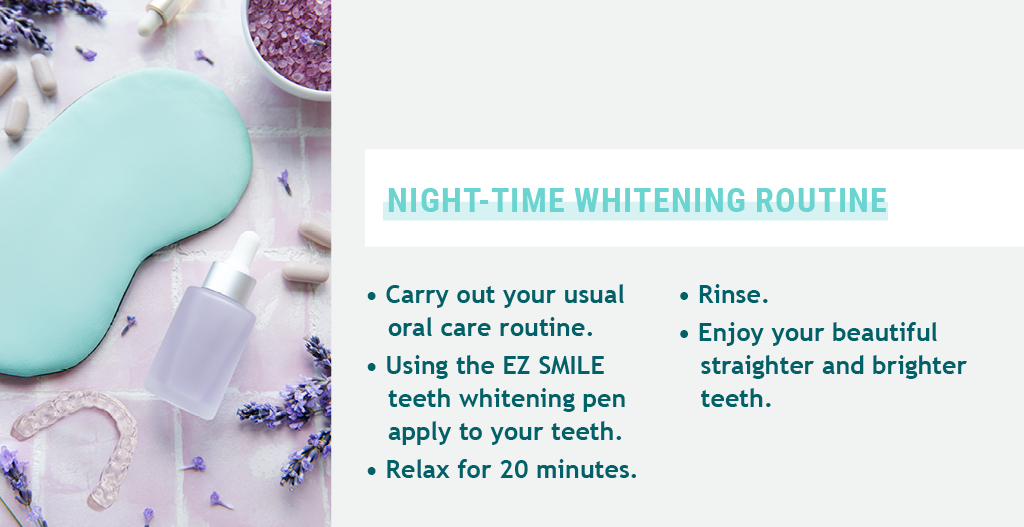 How to Use EZ SMILE Teeth Whitening Pens:
Carry out your usual oral care night-time routine
Uncap the EZ SMILE whitening pen and twist at the base to dispense the gel.
Using the brush applicator, make a big smile and apply a thin layer of the gel to the surface of your dry teeth. Try to keep your lips away from your teeth as best as you can.
Put in your clear aligners or mouth trays over your teeth. This will ensure that the whitening gel remains on the teeth surface.
Relax for 20 minutes!
Once completed, rinse your mouth and aligners with cool water.
Repeat every night until the desired result is achieved. Maximum of 9 days.
Enjoy your beautiful straight, bright and white teeth!
Teeth whitening results can vary, but typically last anywhere from a few days to several weeks. For the best results, maintain your oral hygiene habits and try to avoid consuming staining food and drinks. If you are a coffee lover like us, maybe switch to an iced coffee to drink through a straw which will minimize the amount of staining beverages coming into direct contact with your teeth.
Using EZ SMILE teeth whitening pens is a convenient, effective, safe and EZ way to achieve a brighter, whiter smile. With its powerful whitening, you can enjoy the confidence, and increased self-esteem that comes with a brighter smile, in just a few short days.
If you are interested in the EZ SMILE teeth whitening pens, you can purchase them in sets of 3 through our website for just $39.95.