Teeth Straightening Gold Coast
Looking for the best clear aligners on the Gold Coast? You've come to the right place. EZ SMILE are one of the Gold Coast's top provider of clear aligners, for you to finally achieve the smile you've always wanted, from the comfort of your own home.
Not everyone was born with a perfectly aligned smile. Luckily for you, everyone has the chance to straighten their teeth with EZ SMILE's clear aligners. At EZ SMILE, we provide those on the Gold Coast with transparent, easy, comfortable custom-printed aligners that work to gently shift teeth into a natural, beautiful smile.
Custom-generated from BPA-free plastic, EZ SMILE's clear aligners offer an affordable, advanced alternative to braces. Where traditional orthodontic treatment consists of wearing large, indiscreet apparatus, EZ SMILE's Gold Coast clear aligners are virtually invisible and will provide a straight set of teeth in a matter of months.
Scanning Locations
in Gold Coast
Every EZ SMILE teeth straightening plan on the Gold Coast will commence with a scan of your mouth and teeth. This way, we can get a comprehensive map of where your teeth currently sit and where we'd like them to move to. You can either order an at-home impression kit, or you can visit one of our many EZ SMILE scanning centres across Queensland. Our Gold Coast scanning locations include:
Upper Coomera

The Denture Hub

Shop T15 1 Commercial Street
Upper Coomera Queensland 4209
0432 005 500
Appointments available Tuesday – Saturday.
No centre near you? You can purchase an impression kit and complete the whole process from your home.
Start your journey here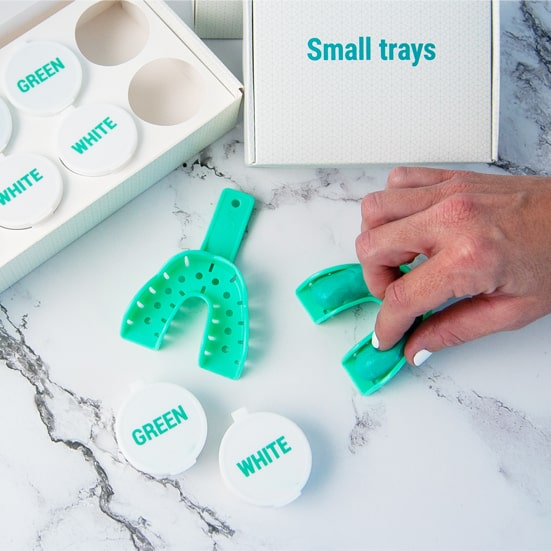 Step 1
We'll assess your smile
Straightening your teeth on the Gold Coast has never been so easy as it is with EZ SMILE. We'll get started with a full initial mouth and teeth scan, either at one of the EZ SMILE scan centres on the Gold Coast or through an at-home impression kit. Once we've got a mould of your current teeth positioning, we'll get to work on detailing your customised clear aligners.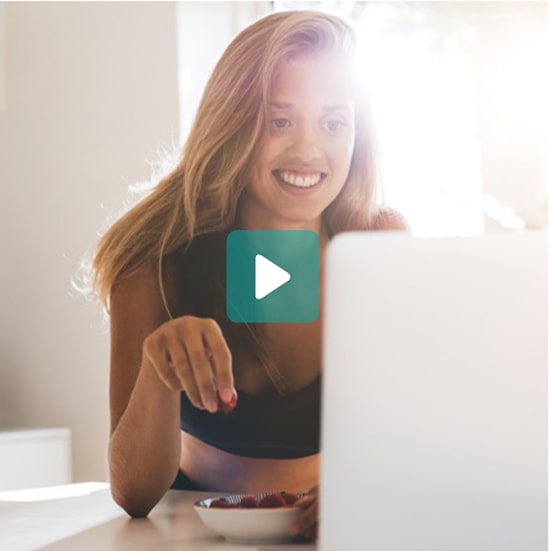 Step 2
See your new smile
We'll then send out your clear aligners directly to your home for $2499. Each set has been custom-designed to offer a progression in your teeth straightening Gold Coast treatment. Start with the first aligners, and after every two weeks, make your way onto the next set. You'll need to wear them for a minimum of 20 hours a day, which is relatively easy, as they are virtually invisible.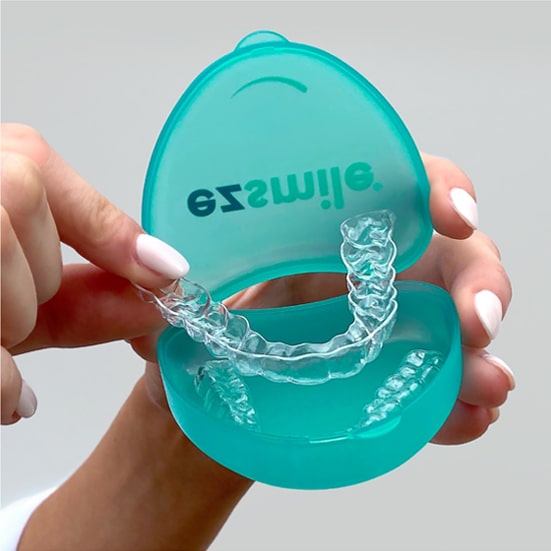 Step 3
Straighten your teeth with clear aligners
Voila! Now it's time to retain all of the work your clear aligners have done. When you've finished with your last set of aligners, you'll need to move onto wearing a retainer. Wearing a retainer at night is crucial to maintaining your new teeth positions. Your first retainer will be included with your clear aligners, and then you can purchase ($150) your next ones through EZ SMILE.
Gold Coast
Clear Aligners FAQs
How Do Clear Aligners Work?

EZ SMILE's clear aligners are plastic moulds of your teeth, that have been designed with gradual adjustments to gently align teeth. Almost entirely invisible, the transparent design of our clear aligners means that you can easily wear, clean and maintain your teeth straightening aligners without anyone ever knowing you're undergoing treatment on the Gold Coast.

Each new set of EZ SMILE's clear aligners gently and progressively move your teeth until they are perfectly straight.

Each new set of EZ SMILE's clear aligners gently and progressively move your teeth until they are perfectly straight. Depending on the current positioning of your teeth, the aligners will work to make a variety of small movements with each new set. Depending on the customer, the duration of every teeth straightening treatment on the Gold Coast will vary; the average time required for our clear aligners is around six months. How quickly clear aligners work will largely depend on the alignment issues faced and how many hours of the day that the customer is wearing them. EZ SMILE strongly recommend wearing the clear aligners for a minimum of 20 hours each day.

The best part about the EZ SMILE's clear aligners Gold Coast treatment is that the method is astonishingly discreet. Forget uncomfortable and conspicuous braces apparatus – our clear aligners are almost completely undetectable. Believe it or not, most people won't even realise that you're undergoing teeth straightening.

Which Is Better, Braces or Aligners?

We may be biased; however, we strongly maintain that aligners are the better option for modern-day conveniences. Braces are excellent orthodontic tools that offer extensive treatment for teeth and mouth issues. However, if you solely want to straighten up your smile, clear aligners are, in our opinion, your best preference.

There are a number of benefits that come with clear aligners that make them more appealing than braces. For starters, EZ SMILE's clear aligners are up to 70%^ more affordable than the average braces treatment. Secondly, the required duration of EZ SMILEs clear aligners Gold Coast treatment is significantly shorter than braces. On average, treatment duration for braces is around two years. Our clear aligners will provide you with a straight set of teeth in under 12 months.

The more significant advantage of aligners; however, has to be the fact that anyone with mild to moderate issues can use clear aligners and straighten their teeth, without having to wear intense braces apparatus. Our clear teeth aligners are practically invisible, so you don't have to agonise over the visuals and inconveniences of traditional braces equipment.

Do Clear Aligners Hurt?

When you first insert your clear aligners, there may be some initial discomfort as you adjust to wearing a new set of teeth aligners. As your mouth becomes more accustomed to your clear aligners, they will increasingly become more comfortable.

In saying that, experiencing mild discomfort or sore teeth during the course of your EZ SMILE clear aligners Gold Coast treatment is common. A little bit of soreness every now and then is a sign that your aligners are working to make those important gradual movements. The aligners are gently moving your teeth to straighten your brand-new smile. For most of our Gold Coast customers, discomfort is mild and will typically subside within a few days of switching to the next clear aligner set.

How Much Do Clear Aligners Cost on the Gold Coast?

Want to know more about costs? Easy. We don't hide behind hidden fees or extortionate pricing. At EZ SMILE, we offer clear aligners on the Gold Coast for just $2,499.

EZ SMILE's costs of teeth straightening on the Gold Coast are up to 70%^ cheaper than conventional braces. What's more, EZ SMILE customers can choose between several different payment plans to suit various lifestyles and budgets.

The costs of EZ SMILE's clear aligner treatment on the Gold Coast are inclusive of all aligner sets and ongoing support from EZ SMILE. We believe in offering accessible, affordable, reliable and comfortable teeth straightening to those on the Gold Coast without excessive fees. Where traditional orthodontic braces can often be expensive, painful, and require longer treatment times, EZ SMILE offers the perfect solution to teeth alignment, at an accessible, convenient and affordable rate.

Can You Eat with Clear Aligners?

You won't need to make any drastic changes to diet when undergoing EZ SMILE's teeth straightening. However, you cannot eat anything while you have your clear aligners in place. Always take your aligners out to eat and drink anything that is not regular water. Do not eat anything while your EZ SMILE aligners are in place – this will damage the plastic and prevent your aligners from working properly. Remove your clear aligners, keep them somewhere safe (your clear aligners case) while you're eating, and put them back in place once you've cleaned your teeth.

Brushing your teeth after every time you eat or drink will work to protect your teeth during clear aligner treatments. If you don't clean your teeth between eating and putting your aligners back in, you could be at risk of discolouration and tooth decay. If you don't have immediate access to your toothbrush or clean water, keep some sugar free gum on hand to remove food particles, bacteria and acid from your teeth before putting your EZ SMILE aligners back in.

Can Clear Aligners Fix an Overbite?

Invisible braces Gold Coast or clear aligner treatment does not work to fix an overbite or underbite directly. For mild bite issues, there may be some incidental modification that comes with aligning your teeth with EZ SMILE clear aligners. However, if you are suffering from a large bite issue, you should go and see your dentist or orthodontist on the Gold Coast. EZ SMILE has a number of partner dentists whom they can recommend to assist with treatment.

Do Home Teeth Straightening Kits Work?

Yes! Just check out our hundreds of customer testimonials and before and afters – the EZ SMILE home teeth straightening kits are very effective! If you follow your treatment plan and wear your clear aligners for 20 hours a day, you'll notice your smile becoming straighter within a matter of weeks!

EZ SMILE's clear aligners won't be suitable for everyone. That's why we always start with a quick assessment to get an idea of the problems you face with your teeth and what you wish to achieve with our clear aligners on the Gold Coast. Once you've been approved for your teeth aligners treatment, we'll provide a treatment plan that we are confident will provide great results.

If you feel the end result does not match the 3D plan, provided you have uploaded midway check photos to your dashboard as well as uploaded final photos within 2 weeks of completing the treatment, EZ SMILE offer extra aligners free of charge to ensure each customer receives the results they have invested in. If you've purchased a treatment plan from EZ SMILE and are not 100% satisfied that the product is working as described, simply contact us within 90 days of purchase for a full refund.

Our home teeth straightening kits work by using gentle movements with BPA-free plastic moulds. Rather than trying to adjust your whole smile at once, these small, gentle movements work to gradually align teeth. After several sets of aligners, you should see physical adjustments with your smile.

Why Choose EZ SMILE for Teeth Straightening on the Gold Coast?

Invisible braces Gold Coast and clear aligner treatment with EZ SMILE is the best solution for someone who wants a straighten their teeth but does not want to undergo traditional orthodontic treatment.

Our clear aligners on the Gold Coast are tailor-made with BPA-free plastic, and 3D printed from your initial moulds. Whether you come into one of our EZ SMILE scan centres across the Gold Coast or you've presented us with an at-home impression, we'll make sure that your straightening treatment plan is completely tailored to provide you with the smile you've always wanted.

The difference between our competitors and us? At EZ SMILE, we're passionate about allowing teeth straightening to be more affordable. We don't skip corners, and we always prioritise quality service. We have 5 star rated local Aussie customer service, (not international call centres) and very fast delivery times, usually inside 3 weeks from the order of the Clear Aligners. We're here to make a beautiful smile more affordable, more convenient, more accessible, and just plain easy